Re-center (move) content after resizing stage in Flash
When you have your flash application 90% developed and then a new requirement is presented that requires you to enlarge the stage size, you will find that it puts the additional space on the bottom and right sides of your document.  I haven't found a way to specify where the additional space is placed, but I was able to find a way to move all my existing content (symbols, tweens, etc) intact together to a new location on the larger stage.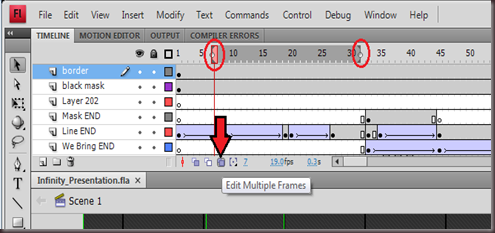 If you click on the edit multiple frames button (arrow pointing to it in screenshot) below the timeline you will get two brackets above the timeline (in the frame numbers, circled in screenshot), put the [ at frame 1, and the ] at the last frame of your timeline and then do a select-all.  This will select everything in every frame within the brackets.  Then you can drag or use the arrow keys to reposition everything.  When you are finished moving the content, just unclick the edit multiple frames to return to the typical editing mode.